Posted by
boomerang
on May 22, 2013 in
Uncategorized
|
Comments Off

on Cache County Housing Market Trends 2013
Cache Valley's housing market has been an oddity compared to other housing markets in Utah and around the country. Through the last 6 years while other markets have been falling and failing, Cache Valley has made it through relatively unharmed. We say relatively because it has had it's fluctuations, but has remained fairly stable through the housing market crash. Let's take a look back to 2007 to see where housing prices have been and where they might be headed this year.
In November 2007 housing prices reached their peak at $179,000 median price for a home in Cache Valley. Since then the lowest median price dropped to $144,000 in April 2011. This was not common though and prices quickly rebounded and stayed somewhere between $155,000 and $160,000.
2012 started off pretty stable with home prices sticking somewhere between $150,000 and $160,000. Towards the end of the year the market experienced some varying spikes and lows that made 2012 a more unstable year.
So what is happening this year and what can we expect? 2013 started on a very high note, which seems to be typical of years past, and dropped sharply in February. Since February prices have been rising steadily and we are currently at median home prices that are comparable to 2007. Cache County has been very stable through the housing and economic hardships and home owners can expect home prices to stay stable through the coming year. A graphic has been provided below to help you visualize exactly what has been happening over the last couple years.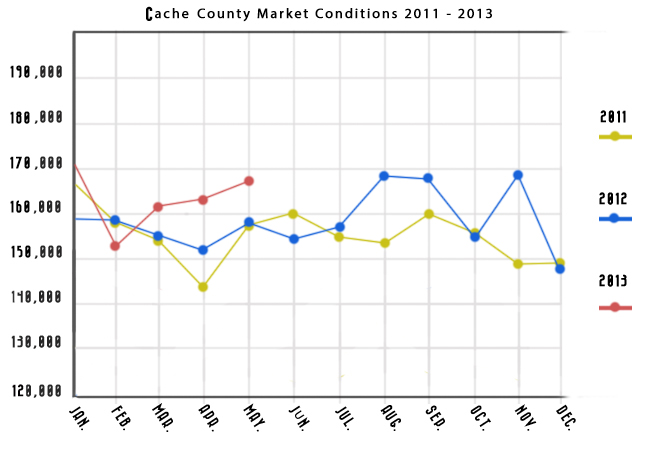 This all means a lot of good things for Cache County. Most obvious is that the housing market is doing ok. This also means the economy in Cache County is doing well because housing prices are commonly related to the status of the economy. Now is a great time to buy a home in Cache County. You start your home search today by visiting utahhomesforsale.com/logan.